When Scott and I decided to create a blog last year, it was largely driven by an extreme sense of frustration with the football program of our alma mater. We thought we could bring a fresh, realistic voice to the Aggie football conversation. Our qualifications really didn't add up to anything more than both of us being raised in an environment devoid of irrational maroon passion and a shared interest in analytical baseball blogs, but the truth is that qualified or not, at that point in time, there was a truckload of material to write about.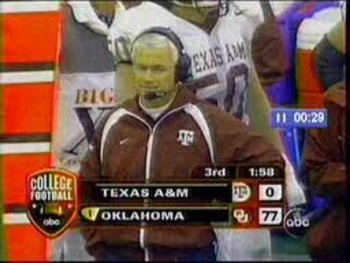 A day that will live in infamy
Think about it. In the last 8 years alone, we had seen THREE coaching changes, the rise and fall of the most heralded Aggie quarterback since Bucky Richardson, bowl embarrassment after bowl embarrassment, a 77-0 loss at the hands of a conference rival, the uncovering of a paid subscription newsletter run by the head coach himself, multiple losing seasons, a pipeline of NFL talent going completely dry, a terrible record against ranked opponents, and last but not least, a move to the SEC that the entire fan base supported but was publicly undercut by A&M's own athletic director, Bill Byrne.
All of that (and more), in just eight years! Blogs could practically write themselves with so much low-hanging fruit. Struggling for material was simply not possible.
This year, however, has turned everything we have come to know and loathe about the Aggie football program on its head. When things are so good, it's really tough to write about. The games spoke for themselves! You can get the lovey-dovey stuff elsewhere. It's not that we don't enjoy the nice stuff; it's that we realize we aren't adding anything by recapping how awesome life is in Aggieland.
I do want to point out the fact that we are currently sitting in what will be looked at as the beginning of a golden era in Aggie football and a seismic shift in the balance of regional power.
If you're on the outside looking in, let's say maybe you support the University of Texas; you may call it the beginning of the end. This is just the tip of the iceberg folks. This year (and next, if they keep Mack Brown around until then) is only prolonging the inevitable for the Longhorn program. They're done.
I'd rather have Stephen McGee
The product on the field is awful. Anyone with a positive IQ watching their games will tell you their QBs suck, their defense can't tackle, and the team has no heart. Longhorns are even admitting it! They are like Yankee fans, except Yankee fans typically behave in a semi-rational manner. It takes a lot for Longhorns to admit that their team is filled with a bunch of spare tires. We are there now. If you're an Aggie, chances are the downfall of UT is almost as fulfilling as the rise of A&M.
The shift doesn't stop with the Longhorns though. It has now begun to rear its beautiful head between A&M and LSU. As you're probably well aware, this morning Ricky Seals-Jones, the No. 1 recruit in the state of Texas, committed to play at A&M, choosing the Aggies over LSU. I am not naïve enough to think that one recruit will tip any scale, but I do believe that Seals-Jones choosing A&M is a sign of things to come.
LSU has made a habit of stealing solid recruits out of East Texas, from right under A&M's thumb. If you were worried Coach Sumlin and his staff were going to let that continue, that concern (or hope) was probably allayed this morning. In fact, Miles' stronghold on the state of Louisiana may loosen in the coming years. On the field, everyone thought LSU would physically manhandle the Aggies, and we know how that turned out.
The gap between A&M and LSU is not near as large as we originally feared, and it's narrowing with each new commit. And as long as Mack Brown is running the circus at the Forty Acres, the only advantage I see UT having over A&M is in the amount of TV networks they own.